Hayden AI Granted Patent for Safe Sense Traffic Violation Reporting App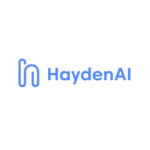 Technology lets users report events from mobile phones and handheld devices
SAN FRANCISCO–(BUSINESS WIRE)–Hayden AI, a global leader in artificial intelligence and machine learning technologies, has been awarded a patent for technology that collects, analyzes, and verifies user-generated traffic incident reports with artificial intelligence. The patent was awarded on October 18, 2022 and is labeled U.S. Patent number 11,475,766 B1.
Scaling traffic enforcement significantly enough to change driver behavior has long been a challenge for cities and towns. Hayden AI's Safe Sense app, which deploys the technological systems and methods protected by this patent, empowers individuals to improve road safety and efficiency by reporting bike lane violations, bus lane violations, and other traffic incidents with their mobile phones.
"User-generated traffic incident reporting can fill a huge gap in traffic enforcement and make streets safer for vulnerable road users, like bicyclists and pedestrians," said Bo Shen, CTO and Co-Founder of Hayden AI. "But evaluating and verifying a large number of reports is impossible for law enforcement agencies to do manually. Hayden AI's now-patented solution to this problem makes it possible for civilians to contribute to road safety through incident reporting and for law and parking enforcement and planning agencies to understand where and why most incidents are occurring."
The Safe Sense app uses artificial intelligence to analyze image evidence, incident types, timestamps, and other attributes of each report to verify if a violation occurred and to identify trends in incidents. This trend analysis allows government agencies to make data-informed decisions to improve road safety and efficiency.
About Hayden AI
At Hayden AI, we're pioneering real world problem solving powered by AI and machine learning. From bus lane and bus stop enforcement to digital twin modeling and more, our clients use our mobile perception system to speed up transit, make streets safer, and create a more sustainable future. Our privacy first approach ensures that our technologies comply with security and privacy regulations and protect personal information while fostering innovation. For more information about Hayden AI visit www.hayden.ai.
Contacts
Charles Territo

[email protected]