ITPro's Third Annual "12 Days of IT" Unveils Top Tech Gifts of 2022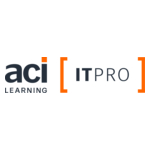 Video series will feature one new tech gadget every day, including chances for audience members to win each item featured during the 12 Days of IT
GAINESVILLE, Fla.–(BUSINESS WIRE)–ITPro, ACI Learning's self-paced online IT training and certification platform, is pleased to host the third annual 12 Days of IT video series, set to kick off on Monday, Nov. 28. Over the course of 12 days, ITPro's Edutainers will share some of their favorite tech gadgets and gift ideas by unboxing a different item each day in a new video. On Friday, Dec. 9, ITPro will host a YouTube Live event where each item will be given away to 12 different winners.
The giveaway is open to anyone, and entries to win can be made here. Subscribing to ITPro's YouTube channel is the best way to catch each video from Nov. 28 to Dec. 9.
ITPro's Technado Podcast personalities Peter VanRysdam and Don Pezet will host the 12 Days of IT series, introducing each item and the ITPro Edutainer who will unbox it. Gifts to be unboxed include items from across the IT spectrum, including game controllers, home accessories, air quality monitors and thermostats, travel routers and more. During each unboxing, the ITPro hosts will provide an in-depth explanation of the item, their professional review, how it compares to other items on the market, and more.
"We are thrilled to bring back 12 Days of IT for the third year. We hope this series will be a fun and informative guide for tech enthusiasts trying to keep up with the ever changing world of tech gadgets," said Don Pezet, CTO of ACI Learning and co-founder of ITPro. "With the abundance of tech gadgets available, we want to recognize a handful of tech products that our own team of professionals and enthusiasts think others will enjoy. We are also thankful to Fluke Networks, who donated one of this year's featured items that will be gifted to a lucky winner of our giveaway. We look forward to celebrating the holiday season with our IT community."
To stay up to date on all of ITPro's news and content, please visit https://www.itpro.tv/.
About ITPro, an ACI Learning Company
ITPro (formerly ITProTV) is the industry leader for online, self-paced learning for technology professionals, students, and organizations worldwide. By blending entertainment and cutting-edge technology with IT education, ITPro creates innovative, high-quality training shows taught by experienced educators and industry professionals. With thousands of hours of training video content on a variety of tech topics, ITPro offers an innovative and effective solution to IT training designed to meet the needs of any learner and any organization – including anyone wanting to start their career, master their profession, or develop their teams. ITPro is part of the ACI Learning family of companies providing Audit, Cyber, and IT learning solutions for enterprise and consumer markets. Gain unlimited, lifetime access to training content, practice exams, virtual labs, help forums, and supplemental materials, and learn all the latest tech skills online, on-demand, on any device: https://www.itpro.tv/.
About ACI Learning
ACI Learning trains professionals and leaders in Cybersecurity, Audit, and Information Technology. Whether they're starting their career, mastering their profession, or developing their team, ACI Learning is with them every step of the way. ACI Learning believes that training is not a transaction, but an ongoing essential of life-long learning and career growth. The company helps professionals choose which learning path suits them best, delivers personalized training in the way they want it, and helps them to find the right career opportunity. To learn more, visit https://www.acilearning.com/.
Contacts
Media
Dana Segan

LaunchTech Communications

dsegan@golaunchtech.com
732-997-9881