SOC Prime Announces Appointment of New Chief Financial Officer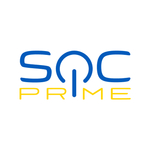 Jeff Moon Joins to Strengthen the Executive Team
BOSTON–(BUSINESS WIRE)–#BlueTeam—SOC Prime, provider of the world's largest and most advanced threat detection marketplace, announces the appointment of Jeff Moon as Chief Financial Officer. Mr. Moon brings to SOC Prime over 25 years of Financial Planning and Analysis, accounting, and corporate finance management experience in leading software development and technology companies.
"As the defender on the frontline of the global cyber war, SOC Prime helps Ukraine and its allies withstand russian aggression. Even in these most turbulent times, we are driven to accelerate the company's growth and further its mission to evolve collective cyber defense," said Andrii Bezverkhyi, founder and CEO at SOC Prime. "I am tremendously excited to have Jeff on board to bring his extensive financial, operational, and strategic experience to drive the next phase of business growth."
Jeff Moon joined SOC Prime from Tetrate where he was Head of Finance and Operations which included raising Series B while managing the company's financial operations. Prior to Tetrate, Jeff worked at Citrix Systems for almost 10 years, laser-focused on supporting Product Lines and being responsible for managing acquisitions and divestitures. In his new role, Jeff will be in charge of working with investors and building the business process improvements to scale SOC Prime for growth.
"I'm genuinely honored to be part of the industry-leading company committed to a great mission to build collective cyber defense globally. SOC Prime's industry-first Detection as Code platform has future-proof potential to transform threat detection connecting industry peers into a cyber defender community driven to thwart emerging threats together and make the world a safer place," said Mr. Moon. "I look forward to leading the finance team and collaborating with everyone at the company in fostering the business growth of SOC Prime."
To learn more about SOC Prime, please visit: https://socprime.com/
About SOC Prime
Headquartered in Boston, SOC Prime operates the world's largest and most advanced platform for collective cyber defense that cultivates collaboration from a global cybersecurity community and curates the most up-to-date Sigma rules compatible with over 25 SIEM, EDR, and XDR platforms. SOC Prime's innovation, a community-driven approach based on Detection-as-Code principles, and cutting-edge technology leveraging Sigma language and MITRE ATT&CK® as core pillars are recognized by the independent research companies, credited by the leading SIEM, XDR & MDR vendors, and trusted by 8,000+ organizations, including 42% of Fortune 100 and 21% of Forbes Global 2000. SOC Prime is backed by DNX Ventures, Streamlined Ventures and Rembrandt Venture Partners having received $11.5M in funding in October 2021. For more information, visit https://socprime.com or follow us on LinkedIn or Twitter @SOC_Prime.
Contacts
Paul J. Bihuniak

pj.bihuniak@socprime.com