Chiplet Summit Offers Keynote-Level Insight from Major Industry Players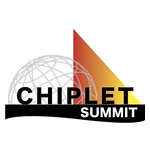 SANTA CLARA, Calif.–(BUSINESS WIRE)–Chiplet Summit, to be held January 24-26 at the Doubletree by Hilton San Jose Hotel, features 6 keynotes that will bring attendees up-to-date on what leading players are planning. Major company keynoters are Intel and Applied Materials. In addition, startups Corigine and proteanTecs, and the standards-developing Open Compute Project (OCP) will share their latest plans, and Silicon Catalyst will analyze the new $50 billion US Chips program.
According to Chuck Sobey, Chiplet Summit General Chair, "Chiplet Summit keynotes give attendees a chance to find out what major players are thinking and planning. Presenters will discuss advances such as new foundry and development platforms, debug and test methods, ways to develop better AI solutions through heterogeneous integration, the US CHIPS Act, and the new chiplet economy. Other sessions will describe die-to-die interfaces, packaging, test, design, and applications."
The Summit will cover the latest architectures, development platforms, and EDA tools. Expert panels will discuss best choices, as well as likely breakthroughs and long-term trends. Pre-conference seminars will cover all stages of the development process as well as participation in the chiplet economy. Other features include an expert table session (with beer and pizza), a superpanel on co-package design, highlights from university research, and an annual update of technologies and markets.
Supporting Resources –
To obtain a free press registration, contact:
Elizabeth Leventhal, Operations Director

Elizabeth@ChipletSummit.com
+1.760.809.5755
To ask about the program, contact:
Lance Leventhal, Program Chairperson

Lance@ChipletSummit.com
+1.858.756.3327
About Chiplet Summit
Chiplet Summit, produced by Semper Technologies, showcases the mainstream applications, key technologies, and leading vendors that are driving the rapidly expanding chiplet market. It is the first event featuring the trends, innovations, and influencers driving the adoption of chiplets in demanding processor, coprocessor, memory, communications, and AI/ML applications.
To learn more about the Summit, please visit https://chipletsummit.com/.
Contacts
Media and Press Registration Contact:
Elizabeth Leventhal

+1.760.809.5755

Press@ChipletSummit.com