Personal.ai Has Raised $7.8 Million In Seed Capital To Build Its Personal Language Model, Sets Out To Revolutionize Human-to-Human Conversations With Personal AIs, Prepares For Series A In 2023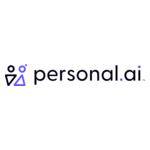 LA JOLLA, Calif.–(BUSINESS WIRE)–Personal.ai, a leading AI startup, is on a mission to revolutionize human connection with its AI-first messaging platform. The Company has raised $7.8 million to-date to develop its proprietary personal language model. The Company is backed by investors such as Supernode Global, Differential Ventures, BBG Ventures, Beni VC, Village Global, Keshif Ventures, and Good Friends, a VC led by the founders of Warby Parker, Harry's, and Allbirds. The Company also has various angels and advisors on board, such as Rob Granieri of Jane Street Capital, Kelvin Beachum of the Arizona Cardinals, Anirudh Koul of Pinterest and Microsoft, and Bradley Taylor of Google Moonshot.
Personal.ai has developed a personal language model (PLM) called Generative Grounded Transformer (GGT-1), which, in contrast to OpenAI's GPT-3, trains on personal data rather than public data. Personal.ai's models are unique to and owned by each user. GGT-1 can absorb massive amounts of unstructured user data, learn through basic chat, and create structured, time-bound memory stacks – a private vault of one's digital mind. These stacks allow users to seamlessly recall their experiences by asking questions, drafting personal responses, and more.
Personal.ai will leverage GGT-1 to create a chat interface that uses AI to draft personal messages, retain and recall personal information, and unlock the potential of human-to-human chat capabilities. This offering is designed to learn from every conversation and interaction, growing more efficient as users chat. The platform's AI ensures that users never forget an important moment, fact, or experience.
"We are excited to bring our AI technology to the world and help people unlock more value from their everyday interactions and aggregated knowledge. Our models act to tackle the human limitations of time and cognition. Our mission is to make Personal AIs accessible to everyone," said Suman Kanuganti, Co-Founder and CEO of Personal.ai.
About Personal.ai
Personal.ai's mission is to foster deeper relationships between humans and unlock greater access to personal knowledge and experiences. Personal.ai was founded in 2020 by Suman Kanuganti (former Founder and CEO of Aira), Sharon Zhang (CTO, MIT grad and builder of four AI startups), and Kristie Kaiser (Head of UX & Design, Forbes 30 under 30). For more information, please visit www.personal.ai.
Contacts
Jonathan Bikoff

Head of Finance

jonathan@personal.ai