Walmart Commerce Technologies and Salesforce Team Up To Unlock Local Fulfillment and Delivery Solutions for Retailers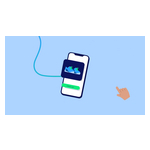 Retailers using Salesforce Commerce Cloud can now offer their customers convenient pickup and delivery experiences with Walmart's leading store fulfillment technologies and local delivery services.
BENTONVILLE, Ark.–(BUSINESS WIRE)–Today, Walmart Commerce Technologies and Walmart GoLocal announced a partnership with Salesforce to provide retailers with access to technologies and solutions that power frictionless local pickup and delivery for shoppers everywhere. Both Walmart Commerce Technologies Store Assist local fulfillment app and Walmart GoLocal local delivery solutions will be available through Salesforce AppExchange to help retailers thrive in today's hybrid shopping world.
Customers today expect seamless in-store and online experiences with convenient fulfillment options, but creating and managing these complex in-house, omni-channel solutions can be a challenge for retailers. For over a decade, Walmart, the world's largest retailer, has pioneered and scaled innovative omnichannel technologies. Walmart's partnership with Salesforce will provide retailers access to the same scalable technologies that Walmart uses. These solutions will enable personalized and easy commerce experiences with real-time order visibility and reliable local pickup and delivery.
The Walmart Commerce Technologies Store Assist app helps retailers leverage their local stores as fulfillment centers. With Store Assist, retailers can optimize in-store fulfillment by increasing picking accuracy, speed and efficiency. The app will provide a seamless handoff experience between employees and customers or third-party delivery drivers. With Walmart GoLocal, retailers of all sizes will have access to white-label, delivery-as-a-service technology to power a frictionless delivery experience for their customers.
"Through this partnership, retailers can leverage the same innovative and scalable technologies that power Walmart's pickup and delivery experiences," said Anshu Bhardwaj, senior vice president, technology strategy and commercialization, Walmart Global Technology. "The same technology that powers Store Assist has enabled Walmart to fulfill over 830 million* orders across over 4,700 Walmart stores. Together with Salesforce, retailers can scale their business and deliver the personalized, convenient experiences shoppers expect."
"Shoppers continue to expect brands to deliver highly connected and frictionless experiences across physical and digital touchpoints. In fact, 1 in 5 online orders placed the weekend before Christmas were picked up in store," said Rob Garf, vice president and general manager of retail, Salesforce. "With the combined power of Walmart and Salesforce, retailers can drive success with best-in-class technology to advance their omnichannel capabilities, drive efficiency, and ensure that every purchase quickly gets into the hands of the shopper – no matter where they are."
With Walmart and Salesforce, retailers will be able to:
Enable Buy Online and Pick Up In-Store (BOPIS): With Store Assist, built by Walmart Commerce Technologies, retailers can leverage their local stores as fulfillment centers, increase picking efficiency and provide seamless handoff experiences to customers or delivery drivers.
Manage Local Deliveries: With Walmart GoLocal, retailers can serve their customers with scalable local delivery solutions that offer reliable, same-day delivery under a white-label experience, which allows them to keep the customer experience under their brand.
Drive Efficiency and Profitability Across the Omnichannel Shopping Journey: With Salesforce Commerce Cloud and Order Management, retailers can efficiently manage their customers' omnichannel shopping experience across one platform while leveraging AI and real-time data to give customers connected, personalized experiences.
"Retailers are looking for ways to improve cost efficiency while meeting their customers' needs, no matter where or how they choose to shop. Fulfillment from stores is an effective way to achieve these goals and serve customers quickly and reliably through local delivery," said Harsit Patel, vice president and general manager of Walmart GoLocal. "We look forward to connecting more retailers with the customizable, local delivery solutions they need."
Walmart Commerce Technologies and Walmart GoLocal are a part of Walmart's efforts to bring its leading technology and solutions to other retailers. Learn more about Walmart Commerce Technologies, Walmart GoLocal, and Salesforce Commerce Cloud, Order Management and AppExchange.
Salesforce, Salesforce Commerce Cloud, Order Management and others are among the trademarks of Salesforce, Inc.
About Walmart
Walmart Inc. (NYSE: WMT) helps people around the world save money and live better – anytime and anywhere – in retail stores, online, and through their mobile devices. Each week, approximately 230 million customers and members visit more than 10,500 stores and numerous eCommerce websites under 46 banners in 24 countries. With fiscal year 2022 revenue of $573 billion, Walmart employs approximately 2.3 million associates worldwide. Walmart continues to be a leader in sustainability, corporate philanthropy and employment opportunity. Additional information about Walmart can be found by visiting https://corporate.walmart.com, on Facebook at https://facebook.com/walmart and on Twitter at https://twitter.com/walmart.
*Walmart orders picked since July 2019
Contacts
Walmart Media Relations

1-800-331-0085

https://corporate.walmart.com/news/contact-media-relations