QAD Launches New Brand to Embody its Adaptive Enterprise Vision and Growth Journey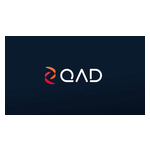 New visual brand unifies QAD's growing product suite and signifies its position in the SaaS market
SANTA BARBARA, Calif.–(BUSINESS WIRE)–QAD Inc., a leading provider of next-generation manufacturing and supply chain solutions in the cloud, has launched a new visual brand.
A brand is more than just a logo. It is the identifying symbol that distinguishes a company's energy and vision for the future. A lot has changed since QAD's last brand launch in 1995. The new brand brings together the company's sharpened vision for the Adaptive Enterprise, recent acquisitions and SaaS solution growth supporting manufacturers and supply chains.
"We are excited to unveil QAD's new brand as we make unprecedented investment in technologies, acquire best in class solutions, and build the most talented team in the industry," said QAD Chief Executive Officer Anton Chilton. "While we are changing how we look, our mission and values will never waver."
Success for an Adaptive Enterprise is achieved by aligning people, the right processes and supporting systems across the supply chain from raw materials to finished goods. QAD's new brand recognizes the significant advancements made in supporting people and process through QAD Redzone Connected Workforce, the #1 connected workforce solution in the industry, and QAD Process Intelligence – applying AI to optimize process execution.
"We are building the best version of QAD by bringing together our past successes and new capabilities," said QAD Chief Marketing Officer Carter Lloyds. "The refreshed brand is fueled by our passion to help our customers overcome the manufacturing and supply chain challenges of tomorrow. It's time for us to reintroduce ourselves."
QAD's new identity represents its two key focus areas – Manufacturing and Supply Chain – coming together in perfect unison in an act of balance and symmetry. The new color palette is inspired by three raw materials used in manufacturing: Cobalt Oxide, which is used to create blue colored enamels, ceramics and glass; Cinnabar, a bright red ore used in pigments and dyes from which mercury can be extracted; and Cadmium, an orange mineral extracted from zinc ore used in the production of batteries.
The new QAD brand is being rolled out across all platforms and digital and print sales and marketing collateral. Want to learn more? Visit the QAD website.
About QAD – Enabling Adaptive Enterprises
QAD Inc. is a leading provider of next-generation manufacturing and supply chain solutions in the cloud. To succeed in a turbulent world, facing disruptions in supply and fluctuations in demand, manufacturers and supply chains must rapidly respond to change and seamlessly optimize agility, efficiency, and resilience for effective customer service. QAD delivers Adaptive Applications to enable these Adaptive Enterprises.
Founded in Santa Barbara, California, QAD has customers in 84 countries around the world. Thousands of companies have deployed QAD enterprise solutions including enterprise resource planning (ERP), digital commerce (DC), supplier relationship management (SRM), digital supply chain planning (DSCP), global trade and transportation execution (GTTE) and enterprise quality management system (EQMS). To learn more, visit www.qad.com or call +1 805-566-6100. Find us on LinkedIn, Twitter, Facebook and Instagram.
"QAD" is a registered trademark of QAD. All other products or company names herein may be trademarks of their respective owners.
Contacts
QAD Inc.
Caleb Finch

Public Relations

805-566-6100

[email protected]
Beth Hespe

Analyst Relations

609-709-3769

[email protected]