Fanatics to Become the National Hockey League's Official On-Ice Uniform Outfitter Starting with the 2024-25 Season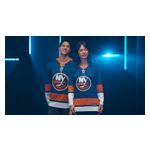 Fanatics currently makes and supplies Authentic Pro performance and training products for the NHL, and manufactures official uniforms for other professional sports teams
Deal marks the first time that Fanatics branding will be featured directly on official on-ice uniforms
New rights, which also include supplying authentic jerseys at retail, expands comprehensive partnership between the NHL and Fanatics
NEW YORK–(BUSINESS WIRE)–The National Hockey League (NHL) and its longstanding partner Fanatics, today announced a new 10-year agreement which, beginning with the 2024-25 season, will see Fanatics become the League's authentic outfitter of on-ice uniforms and supplier of authentic jerseys at retail. The deal marks the next stage of the NHL's partnership with Fanatics, which over the past two decades has evolved to include NHL e-commerce and retail operations, fan apparel and headwear, replica jerseys, licensed memorabilia, performance and training products, on-ice Stanley Cup® Champions apparel and headwear, and now official on-ice uniforms and authentic jerseys sold at retail.
The new Fanatics on-ice NHL uniforms will build upon the growing collection of performance and technical products that Fanatics currently makes for professional athletes. Since 2018, Fanatics has designed and manufactured the NHL's Authentic Pro product line – the official performance and training apparel and headwear products worn by NHL Players, coaches and equipment and training staff. Since 2017, Fanatics has also manufactured and supplied official, on-field professional baseball uniforms for all 30 teams, and will now utilize its operational, design, and manufacturing expertise towards the uniforms for the world's best hockey Players.
"This expansion of our partnership with Fanatics is a reflection of our shared commitment to innovation, performance, and serving our Players and fans," said NHL Commissioner Gary Bettman. "Fanatics is a sports industry market leader and with its proven track-record in e-commerce and retail operations, licensed fan merchandise and performance gear — including the popular NHL replica jerseys and Authentic Pro performance and training products — our Players and fans should look forward to what Fanatics will bring to the best uniforms in all of sports."
"This is a seminal moment in the history of Fanatics, and a testament to the hands-on, collaborative relationship with the NHL that we've built over the years," said Fanatics CEO Michael Rubin. "In addition to our tireless commitment to super serving sports fans around the world, Fanatics has equipped athletes, coaches and team staffs with performance products across many sports for years. Everything we do as a company pushes the boundaries to create more highly engaged experiences and revolutionary products for fans, athletes, and partners, and I can't wait to see our brand on official on-ice uniforms for the first time."
The NHL and Fanatics will apply the same innovation-focused mindset to the new on-ice uniforms that has driven significant product development across a variety of categories throughout the duration of their longstanding partnership. In 2017, Fanatics began producing official NHL replica jerseys, applying analytics and insights from research across thousands of fans to inform the design process for these products. This consumer feedback led to features such as a more tailored female jersey and foldable crests for easier storage. Fanatics will also apply its innovative vertical commerce model to the new authentic NHL jerseys, which allows fans to purchase products in real-time and in response to hot, trending teams and Players, or during free agency or trade moments.
Fanatics will continue to work closely with the NHL to prepare for the debut of its on-ice uniforms during the 2024-25 season. Fanatics has assembled an experienced team of hockey industry leaders with decades of direct experience working with the NHL and its teams for on-ice and performance products.
NHL, the NHL Shield and the word mark and image of the Stanley Cup are registered trademarks of the National Hockey League. NHL and NHL team marks are the property of the NHL and its teams. © NHL 2023. All Rights Reserved.
ABOUT THE NHL

The National Hockey League (NHL®), founded in 1917, consists of 32 Member Clubs. Each team roster reflects the League's international makeup with players from more than 20 countries represented, all vying for the most cherished and historic trophy in professional sports – the Stanley Cup®. Every year, the NHL entertains more than 670 million fans in-arena and through its partners on national television and radio; more than 191 million followers – league, team and player accounts combined – across Facebook, Twitter, Instagram, Snapchat, TikTok, and YouTube; and more than 100 million fans online at NHL.com. The League broadcasts games in more than 160 countries and territories through its rightsholders including ESPN, WBD Sports and NHL Network in the U.S.; Sportsnet and TVA Sports in Canada; Viaplay in the Nordics, Baltics, and Poland; YLE in Finland; Nova in Czech Republic and Slovakia; Sky Sports and ProSieben in Germany; MySports in Switzerland; and CCTV5+ in China; and reaches fans worldwide with games available to stream in every country. Fans are engaged across the League's digital assets on mobile devices via the free NHL® App; across nine social media platforms; on SiriusXM NHL Network Radio™; and on NHL.com, available in eight languages and featuring unprecedented access to player and team statistics as well as every regular-season and playoff game box score dating back to the League's inception, powered by SAP. NHL Original Productions and NHL Studios produce compelling original programming featuring unprecedented access to players, coaches and League and team personnel for distribution across the NHL's social and digital platforms.
The NHL is committed to building healthy and vibrant communities using the sport of hockey to celebrate fans of every race, color, religion, national origin, gender identity, age, sexual orientation, and socio-economic status. The NHL's Hockey Is For Everyone® initiative reinforces that the official policy of the sport is one of inclusion on the ice, in locker rooms, boardrooms and stands. The NHL is expanding access and opportunity for people of all backgrounds and abilities to play hockey, fostering more inclusive environments and growing the game through a greater diversity of participants. To date, the NHL has invested more than $100 million in youth hockey and grassroots programs, with a commitment to invest an additional $5 million for diversity and inclusion programs over the next year.
ABOUT FANATICS

Fanatics is the ultimate one-stop sports fan destination that ignites and harnesses the passion of fans and maximizes the presence and reach for preeminent sports partners globally. Boasting long-standing relationships with more than 900 sports properties, a database of more than 90 million consumers worldwide and a trusted brand name, Fanatics is furthering its innovation across the sports landscape by building a leading global digital sports platform, complete with offerings including e-commerce and licensed merchandise, physical and digital trading cards and collectibles, and online sports betting and iGaming.
Contacts
MEDIA
NHL:

Nirva Milord
[email protected]
FANATICS:

Brandon Williams
[email protected]