Infobip Announces First North American Shift Conference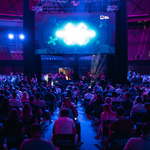 The omnichannel communications leader is bringing Shift, one of Europe's most popular developer conferences, to Miami, May 23, 2023
SEATTLE–(BUSINESS WIRE)–Infobip's Shift Conference, one of Europe's most popular developer gatherings, is coming to the U.S. For the first time, Shift will cross the Atlantic to make even deeper inroads into the global tech community, landing on the shores of tech industry hotbed Miami, Florida, on May 23, 2023. With attendees ranging from developers, software engineers, and product owners to startup founders and teams, Shift will set a precedent for experiential, interactive learning, multi-faceted networking, and the exchange of innovative ideas.
Over the last few years, Infobip partnered with Shift conference founder and CEO Ivan Burazin, who is also Infobip's Chief Developer Experience Officer, to completely reimagine Shift for North American audiences and beyond—inviting attendees to hear from some of the most sought-after trailblazers of the global developer community, enjoy the panel discussions on the hottest tech topics of the day, and expand their knowledge in various fields of development. Shift Europe has long been a successful feature on the developer and innovative tech event circuit. Shift Miami will build on this success, bringing together innovative, inspirational, and immersive in-person and digital experiences across a global gathering of some of the brightest and most brilliant thinkers in tech. This inaugural event also represents a significant breakthrough in Infobip's efforts to increase its footprint in the United States.
"The conference expansion outside of Europe is a logical progression of the event considering the number of developers working in the U.S. In the coming years, we will expand into other continents, transforming a successful regional player into a global one," said Burazin. "Keeping the developer community connected and focused on growth is increasingly relevant considering the recent period of uncertainties in the tech sector, marked by mass lay-offs. Shift is integral to Infobip's efforts to strengthen and support the developer ecosystem globally."
"Shift will showcase an impressive line-up of speakers from the top of the industry sharing cutting-edge insights on AI-code creation, Cloud platform, and cloud-native development, Developer Velocity, Blockchain development, front-end trends, sustainable technology trends and more," said Nikola Radišić, Global Events Team Lead at Infobip. Speakers confirmed to date include John Romero (the father of first-person shooters, most notably Doom), Ekene Eze (Director of Developer Relations at Abridged), Kitze (founder of Sizzy), Joyce Lin (Head of Developer Relations at Postman), Jhey Tompkins (Developer Relations Engineer at Google), and many more.
About Infobip
Infobip is a global cloud communications platform that enables businesses to build connected experiences across all stages of the customer journey. Accessed through a single platform, Infobip's omnichannel engagement, identity, user authentication, and contact center solutions help businesses and partners overcome the complexity of consumer communications to grow business and increase loyalty. With over a decade of industry experience, Infobip has expanded to 70+ offices globally. It offers natively built technology with the capacity to reach over seven billion mobile devices and 'things' in six continents connected to over 9,700+ connections of which 800+ are direct operator connections. Infobip was established in 2006 and is led by its co-founders, CEO Silvio Kutić, Roberto Kutić, and Izabel Jelenić.
Recent award wins include:
Infobip named a leader in the CPaaS Leaderboard, Juniper Research (February 2023)
Infobip named a leader in the CCaaS Leaderboard, Juniper Research (Aug 2022)
Omdia Ranks Infobip as Leader in CPaaS Universe Report (May 2022)
Ranked the leading service provider in CPaaS by Juniper Research in its new Competitor Leaderboard CPaaS Vendors (October 2021)
Infobip named a Leader in the IDC MarketScape: Worldwide Communications Platform-as-a-Service (CPaaS) 2021 Vendor Assessment (doc #US46746221, May 2021)
Best A2P SMS provider for the fourth year running by mobile operators and enterprises in ROCCO's annual Messaging Vendor Benchmarking Report
Best CPaaS Provider of the Year, Best RCS Provider of the Year, and Mover & Shaker in Telco Innovation at the 2021 Juniper Digital Awards
About Shift
Shift is a tech conference franchise with over a decade of experience in creating and producing technology conferences in multiple industry verticals such as Software Development, Fin-Tech, and Artificial Intelligence. Shift's flagship conference is the largest developer event in Southeastern Europe, attracting attendees from over 109 different countries and speakers from all the major global IT companies including Microsoft, Google, vmWare, Docker, Nginx, AWS, and many others.
Contacts
Media
Janet Lennon

PR & Communications Lead | Americas

Direct: 206.914.6175

[email protected]