Women In Bio Connecticut hosts Panel at Yale Innovation Summit
WIB-CT How to Build a Better Board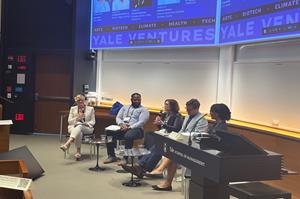 NEW HAVEN, Conn., June 21, 2023 (GLOBE NEWSWIRE) — Women In Bio Connecticut (WIB-CT) hosted a panel at the Yale Innovation Summit titled "How to Build a Better (Optimal) Board" on June 1st. The Yale Innovation Summit is Connecticut's biggest entrepreneurship event, convening over 2,000 innovators, investors, and industry for panels, speakers, and networking in the arts, biotech, climate, health, and tech.
"There is a palpable sense of camaraderie and support among the burgeoning biotech community in Connecticut, and this Summit, and our panel, are just another example of how individuals and companies are collaborating to ensure our collective success," said Erika Smith, CEO ReNetX Bio, board member and WIB-CT member, who moderated the panel.
Experts on the panel spoke about the legal structure of board development and considerations around venture capital, including scaling from launch to IPO stage. Jermaine Brookshire Jr., Esq, attorney, Wiggin and Dana; Christine Brennan, managing director, Vertex Ventures HC; and Amma Anaman associate general counsel & legal relationship manager, U.S. listings and Matthew Batters, general counsel and corporate secretary, Arvinas were discussion panelists. The panel also provided key resources around best practices for board development, finding board members and joining board service.
"Starting and growing any type of company is challenging, and we hope to offer guidance to emerging and established companies about overcoming the many hurdles in building an optimal board across any stage of a company, including best practices for board competencies needed at different stages to support strategy, investment and ESG," commented Susan Sobolov, PhD, president of RIGImmune, Inc and chapter president of Women in Bio CT.
Women In Bio Connecticut (WIB-CT) recently celebrated the first cohort's completion of the 3.8 Initiative, named for the March 8 International Women's Day—a program dedicated to giving women leaders the tools and knowledge they need to become future board leaders.
The 3.8 Initiative is designed to create a cohort of senior female executives and offer them three pillars for progress: a supportive network of women leaders in the life science and health tech community; a curriculum of start-up board fundraising diligence and other areas correlating with individual gaps in training as well as experiential opportunities for board readiness; and facilitation of board seat placement for our cohort graduates by working with local venture capital organizations and incubators. For those interested in participating in this program, please click the following: form link and submit the completed form by Friday July 14th. This year's cohort will begin in September.
About WIB-Connecticut
Founded in 2021, the vibrant WIB-Connecticut community, once an extension of the WIB-Metro New York Chapter, has affirmed its footing in the life sciences community. Over the past decade, Connecticut entrepreneurs, scientists, engineers, and investors have contributed to the breeding grounds for innovative bioscience advances—and we are just getting started. We invite all leaders of the past, present, and future to join us on this journey to recognize and promote Connecticut as a bioscience hotbed. We are committed to support innovation, networking, education, mentorship, and entrepreneurship by providing to our vibrant bioscience community a platform that promotes collaboration and access to resources and events.
About Women In Bio
Founded in 2002 to support all women employed in the field of life sciences from the classroom to the boardroom, Women In Bio (WIB) is a multifaceted organization with 14 chapters across North America and Montreal. It offers an array of professional educational programs, peer to peer learning, mentoring and networking opportunities, and is the only organization for women that integrates all career levels and life sciences fields. WIB is funded by sponsors and partners dedicated to supporting women of all ages in their lifelong journey in the life sciences and beyond. Please visit https://www.womeninbio.org.
Kristin Jutras
TellMed Strategies
908.947.0500 x719
[email protected]
A photo accompanying this announcement is available at https://www.globenewswire.com/NewsRoom/AttachmentNg/476e1618-6187-4268-ad36-15b3256ac169