Controlled Freezing to -196°C: Single Use Support & SCHOTT Pharma Join Forces
SCHOTT Pharma AG & Co. KGaA and Single Use Support GmbH are joining forces to extensively test SCHOTT Pharma's innovative solutions for the safe and efficient handling of small volumes of pharmaceuticals at ultra-low temperatures.
Controlled Freezing to -196°C with Single Use Support solutions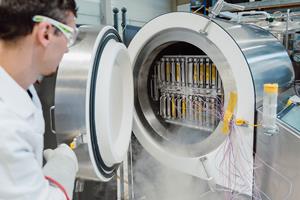 KUFSTEIN, Austria, July 12, 2023 (GLOBE NEWSWIRE) — Specializing in the growing sector of Advanced Therapy Medicinal Products (ATMPs), the cooperation focuses its efforts on drug delivery solutions and freezing applications for cell and gene therapies.
With substance handling temperatures as low as -196°C (-320°F), the aim of the collaboration is to create reliable solutions to ensure highest product quality. By joining forces and offering their combined knowledge and respective backgrounds to pharmaceutical and biotechnology companies around the globe, their customers will benefit from outcomes that focus on improved product integrity and more reliable cold chain processes, enabling them to improve patient health.
Alexandre Monzo Fuentes, Head of Sales EU at Single Use Support, is pleased about the cooperation: "With our many years of experience in the production of controlled freezing solutions, we look forward to sharing synergies with SCHOTT Pharma in developing new solutions that address the specific needs of advanced therapies."
About Single Use Support
The global operating process solution provider Single Use Support GmbH helps biopharmaceutical manufacturers advance fluid & cold chain management of drug substances and advanced therapies. Headquartered in Austria, the pioneering company specializes in the development of process solutions for 100% safe liquid transfer in pharmaceutical production. Its innovative product solutions, such as the RoSS® shell protection for all single-use bags, enable the safe, sterile, and permanently frozen shipment of very valuable advanced therapy medicinal products around the globe. More: https://www.susupport.com/
About SCHOTT Pharma AG & Co.KGaA
SCHOTT Pharma helps people around the world protect, access and use the medicine they need as safely and conveniently as possible. As market leader in primary packaging made of glass and polymer, they are safeguarding and advancing the integrity of injectable solutions and more. We are pioneers with unsurpassed quality, safety and reliability. More: https://www.schott-pharma.com/
Press contact
Michael Eder
[email protected]
A photo accompanying this announcement is available at https://www.globenewswire.com/NewsRoom/AttachmentNg/78b29640-6062-42df-bcc7-f1d71daf972a