Slynd® (drospirenone) is now covered by the Régie de l'assurance maladie du Québec
Slynd®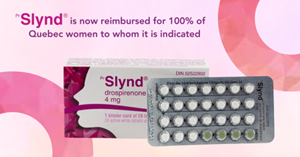 BLAINVILLE, Quebec, July 12, 2023 (GLOBE NEWSWIRE) — Duchesnay Inc., a pharmaceutical company specializing in women's health and member of Duchesnay Pharmaceutical Group headquartered in Blainville, Quebec, is pleased to announce that Slynd® (drospirenone 4 mg), used to prevent pregnancy in girls and adult women aged 12 years and older who can become pregnant, is now listed for public reimbursement on the Public Prescription Drug Insurance Plan of the Régie de l'assurance maladie du Québec.
Slynd® was approved on May 17, 2022, by Health Canada as a contraceptive that contains as a sole active ingredient, drospirenone 4 mg, a synthetic form of progesterone that has a similar pharmacological profile to the natural hormone progesterone.
"Securing public reimbursement coverage is an important milestone for the whole healthcare ecosystem of Quebec, as it provides access to women of reproductive age a new branded estrogen-free contraceptive option", said Dany Hallé, Vice-president, Commercial Affairs at Duchesnay Pharmaceutical Group. "Slynd's reimbursement coverage by the Régie de l'assurance maladie du Québec will play a significant role in facilitating and expanding access to this cutting-edge contraception option approved in Canada."
Slynd® (drospirenone 4 mg), a progestin-only tablet, offers a 24-hour safe window for a missed tablet, during which no further contraception is required to prevent pregnancy if the missed tablet is taken within the 24-hour safety window. Slynd® provides a 24/4 dosing regimen (24 active tablets plus four inactive tablets taken once daily for 28 consecutive days).1
"Slynd® is an oral contraceptive that suppresses ovulation, delivering an estrogen-free contraceptive containing drospirenone, a fourth-generation progestin," said Dr. Rachel Bruneau, a Women's Health specialized family doctor from MAclinique Lebourgneuf in Quebec City. "It will be extremely useful in particular because of its extended missed-dose window as well as for a vast majority of women who can take this new option. In fact, only less than 2% of women can't take it due to contraindications in comparison to up to 30% of patients who can't take the gold standard options that represent the Combined-Oral-Contraceptive (COC's) containing estrogens at the moment."
Slynd® is contraindicated in women who are allergic to drospirenone or any of the other ingredients in this medicine or container; have or have had kidney disease or kidney failure; have or have had reduced adrenal gland function; have or had cervical cancer or any cancer that is sensitive to progestin drugs; have or have had liver problems, including liver tumors/cancer; have or have had unexplained bleeding from their vagina.1
Consult the Product Monograph at https://files.duchesnay.com/duchesnay/slynd/slynd-monograph.pdf for contraindications, warnings, precautions, adverse reactions, interactions, dosing, and conditions of clinical use. The product monograph is also available through our Medical Information Department. Contact us at 1-888-666-0611 or [email protected].
ABOUT DUCHESNAY
Duchesnay is a specialty pharmaceutical company with a long-standing commitment to women's health. Until recently, the company focused on filling the void in terms of scientific research and education and on developing pharmacological solutions that are safe and effective for use during pregnancy and breastfeeding.
Today, Duchesnay has broadened its portfolio of products to offer safe and effective therapeutic options that meet the health and quality of life needs of women and their family members at different stages of their lives. Believing that women around the world deserve to have access to specialized treatments for their conditions, Duchesnay now distributes its products internationally.
For more information about Duchesnay, please visit https://duchesnay.com/en/.
ABOUT DUCHESNAY PHARMACEUTICAL GROUP
Duchesnay Pharmaceutical Group (DPG), with its affiliated companies, is headquartered in Blainville, Quebec. The group consists of five pharmaceutical companies to meet the needs of patients in Canada, the U.S. and abroad. The companies are Duchesnay (Canada) and Duchesnay USA, both dedicated to women's health; Médunik Canada and Medunik USA, which provide treatments for rare diseases; and Analog Pharma, an American generic drugs company, specializing in authorized generics and orphan drugs. From its state-of-the-art manufacturing plant, DPG exports its innovative treatments to more than 50 countries.
The Group, through its proprietary research and development, and through exclusive partnerships, offers innovative treatments for a variety of medical conditions in women's health, urology, oncology as well as for rare diseases. DPG recognizes the dedication and professionalism of its employees and promotes a positive culture and flexible work environment. It is deeply committed to environmental responsibility and to giving back to the community through the support of various charitable organizations. For more information, please visit https://duchesnaypharmaceuticalgroup.com/en .
References
Duchesnay Inc., Slynd® Product Monograph https://files.duchesnay.com/duchesnay/slynd/slynd-monograph.pdf
Media contact:
Mariia Savchuk
Senior Advisor, Communications
[email protected]
+1 (450) 433-7734 ext. 149
A photo accompanying this announcement is available at https://www.globenewswire.com/NewsRoom/AttachmentNg/b542deac-a88a-45e0-9b81-c7f0879aecb9