Sartorius and Repligen Corporation Launch Integrated System with Biostat STR® and XCell® ATF for Upstream Process Intensification
Biostat STR(R) Bioreactor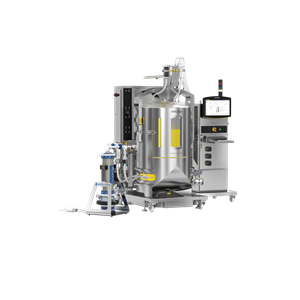 Bioreactor and cell retention technology integration features a single direct control interface to simplify intensified seed train implementation
Customers experience optimized facility equipment installation, footprint, and maintenance requirements
WALTHAM, Mass., Aug. 17, 2023 (GLOBE NEWSWIRE) — Sartorius and Repligen Corporation (NASDAQ:RGEN) today announced the launch of an integrated bioreactor system that incorporates Repligen XCell® ATF upstream intensification technology into Sartorius' Biostat STR® bioreactor, simplifying intensified seed train and N perfusion implementation for biopharmaceutical manufacturers. The Biostat STR® now contains a fully compatible embedded XCell® ATF hardware and software module offering predefined advanced control recipes with integrated Process Analytical Technology (PAT). This system gives users a streamlined way to control cell growth and improve cell retention in perfusion processes without using a separate cell retention control tower.
In addition, customers can better utilize facility space with a reduced equipment footprint from the incorporation of the XCell® Controller hardware and software in the Biobrain® automation platform, creating a single point of control for 50 L – 2000 L upstream intensification processes. The single, integrated controller provides easy integration into Supervisory Control and Data Acquisition (SCADA) and Distributed Control Systems (DCS).
"The market introduction of this integrated bioreactor–intensification system created in partnership with Repligen further reinforces Sartorius' commitment to being an innovator in process intensification and demonstrates our expertise in upstream processing technologies," said Mario Becker, Head of Product Group Bioreactor Technologies, Sartorius. "Ultimately, our goal is to help customers bring more therapeutics to patients faster, and this launch advances our journey along that path to enable continuous manufacturing."
Customers are now able to easily purchase the integrated system from Sartorius, with available pretested and predefined configurations, resulting in faster delivery times than engineered-to-order solutions.
Christine Gebski, Senior Vice President Filtration & Chromatography at Repligen, said, "It's been our pleasure to partner with Sartorius on this program and to share this milestone achievement. The successful pairing of our market-leading XCell® ATF intensification control technology with Sartorius' single-use bioreactors provides end users with a simplified, easy-to-implement perfusion-enabled bioreactor solution for more efficient, higher density cell culture processes."
This new integrated product offering builds on Sartorius and Repligen Corporation's aligned missions to enable the development of new and better therapies and more affordable medicine through expertise and collaboration.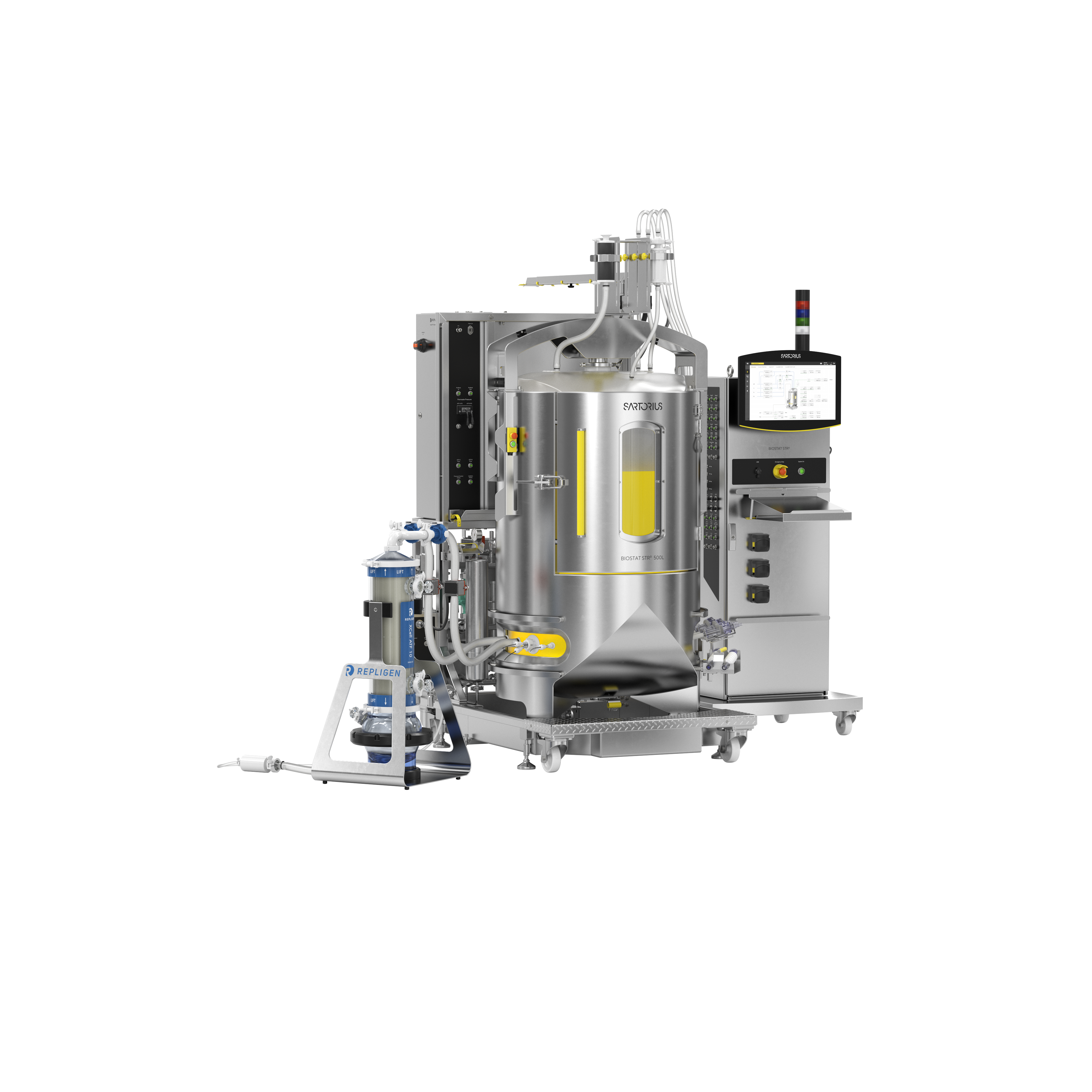 URL: Sartorius Website, Repligen Website
About Sartorius
The Sartorius Group is a leading international partner of life sciences research and the biopharmaceutical industry. With innovative laboratory instruments and consumables, the Lab Products & Services division focuses on laboratories performing research and quality control at pharmaceutical and biopharmaceutical companies as well as academic research institutes. The Bioprocess Solutions division, with its broad product portfolio focusing on single-use solutions, helps customers manufacture biotech medications and vaccines safely, rapidly, and economically. The company, based in Goettingen, Germany, has a strong global reach with around 60 production and sales sites worldwide. Sartorius delivers significant organic growth and regularly expands its portfolio through the acquisition of complementary technologies. In fiscal 2022, the company generated sales revenue of around 4.2 billion euros. At the end of 2022, around 16,000 employees were working for customers around the globe. Follow Sartorius on LinkedIn.
About Repligen Corporation
Repligen Corporation is a life sciences tools and technology company that develops and markets highly innovative bioprocessing solutions and systems. Our products enable efficiencies in the process of manufacturing a wide range of biological drugs, including: monoclonal antibodies; recombinant proteins; cell and gene therapies; and vaccines. We are inspiring advances in bioprocessing for the customers we serve around the globe; primarily biopharmaceutical companies and contract development and manufacturing organizations (CDMOs). Our corporate headquarters are located in Waltham, Massachusetts, with additional administrative and manufacturing operations worldwide. The majority of our manufacturing sites are located within the U.S. (California, Massachusetts, New Jersey and New York), and outside of the U.S. we have sites in Estonia, France, Germany, Ireland, the Netherlands and Sweden. For more information about the company, see our website at www.repligen.com and follow us on LinkedIn.
Repligen Forward-Looking Statement
The following constitutes a "Safe Harbor" statement under the Private Securities Litigation Reform Act of 1995: This press release contains forward-looking statements, which are made pursuant to the safe harbor provisions of Section 27A of the Securities Act of 1933, as amended, and Section 21E of the Securities Exchange Act of 1934, as amended. Investors are cautioned that statements in this press release which are not strictly historical statements, including, without limitation, express or implied statements regarding Repligen's partnership with Sartorius, the impact of a single control system on Repligen's end users, and the future financial performance of Repligen constitute forward-looking statements identified by words like "believe," "expect," "may," "will," "should," "seek," "anticipate," or "could" and similar expressions. Such forward-looking statements are subject to a number of risks and uncertainties that could cause actual results to differ materially from those anticipated, including, without limitation, risks associated with: our ability to successfully grow our bioprocessing business, including as a result of acquisition, commercialization or partnership opportunities; our ability to successfully integrate any acquisitions, our ability to develop and commercialize products and the market acceptance of our products; reduced demand for our products that adversely impacts our future revenues, cash flows, results of operations and financial condition; our ability to compete with larger, better financed bioprocessing, pharmaceutical and biotechnology companies; our compliance with all Food and Drug Administration and EMEA regulations; our volatile stock price; and other risks detailed in Repligen's most recent Annual Report on Form 10-K on file with the Securities and Exchange Commission and the other reports that Repligen periodically files with the Securities and Exchange Commission. Actual results may differ materially from those Repligen contemplated by these forward-looking statements. These forward-looking statements reflect management's current views and Repligen does not undertake to update any of these forward-looking statements to reflect a change in its views or events or circumstances that occur after the date hereof except as required by law.
Contact Sartorius
Maya Fuerstenau-Sharp
Head of Marketing Cell Culture Technologies
[email protected]
Contact Repligen
Sondra S. Newman
Global Head of Investor Relations
(781) 419-1881
[email protected]
A photo accompanying this announcement is available at
https://www.globenewswire.com/NewsRoom/AttachmentNg/a3628d69-9ed6-4333-a9df-235c236201af