Novozymes OneHealth and Juneyao Health announced a strategic partnership at 14th ACN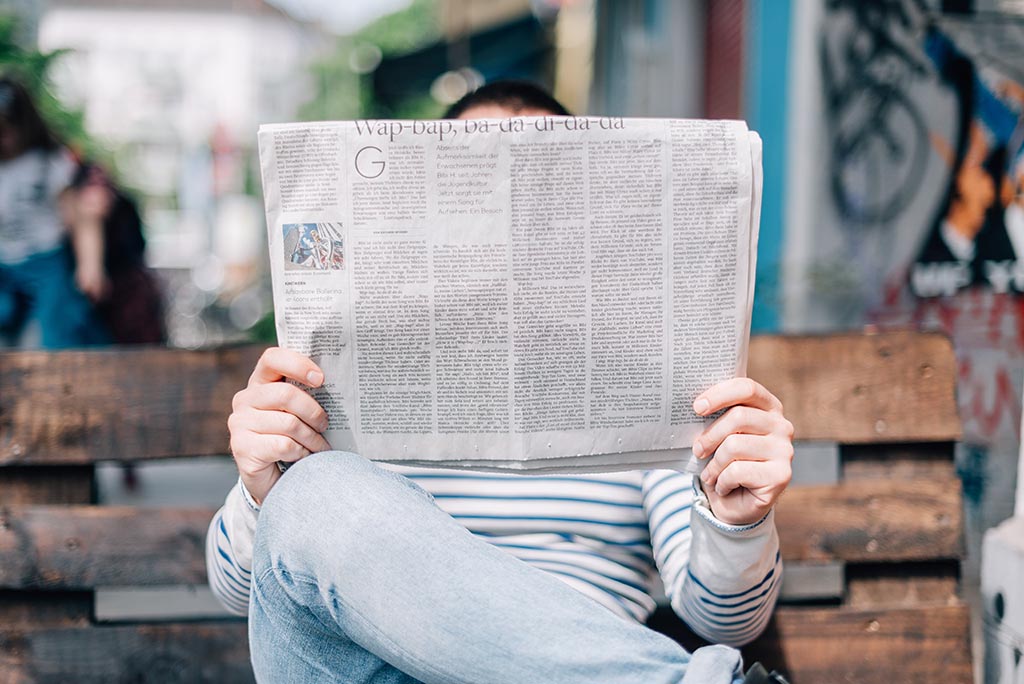 Chengdu, Sept. 21, 2023 (GLOBE NEWSWIRE) — The 14th Asian Congress of Nutrition(ACN), held in Chengdu, China from September 14th to 17th, 2023 brought together experts and enthusiasts in the field of nutrition.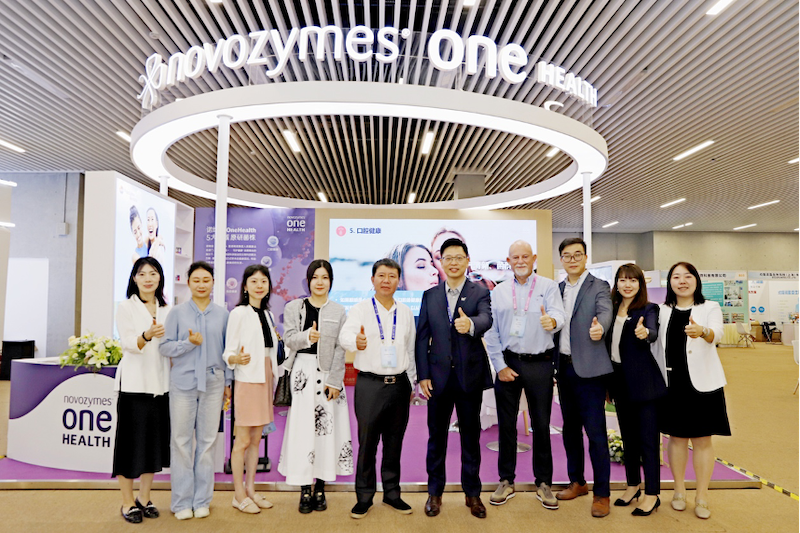 Hubei Juneyao Health Drinks Co., Ltd (hereinafter referred to as "Juneyao Health") and Novozymes OneHealth Biotechnology (Shanghai) Co., Ltd. (hereinafter referred to as "Novozymes OneHealth") announced a strategic partnership and signed an agreement during the 14th ACN.
Juneyao Health is a leading probiotics company in China that focused on providing high-quality and innovative health products designed to improve consumers' quality of life. The company has gradually built an innovative ecosystem that spans from basic research to industrial production to consumer sales, creating a technology-driven core competitive edge. In addition, after more than 2 years of dedicated work in the field of probiotics. Juneyao Health will soon launch a new generation of probiotic product lines that utilize cutting-edge international and domestic technologies to improve product quality, efficacy, and user experience, enabling more consumers to enjoy better health.
Novozymes OneHealth is the Human Health unit of one of the world's leading biotech companies, Novozymes. Novozymes OneHealth is on a journey to deliver clinically proven and targeted biological solutions of probiotics, enzymes, and other bioactives.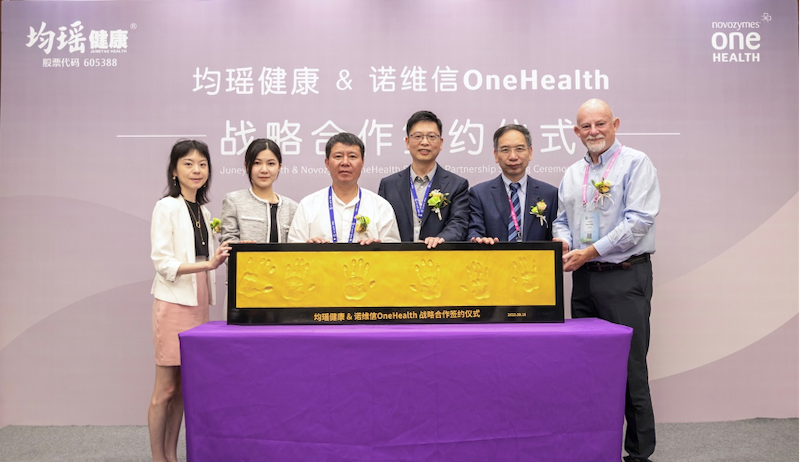 Mr. Ding Gangqiang, Secretary of the Party Committee of the Council of the Chinese Nutrition Society, delivered a speech congratulating the successful hosting of the strategic signing ceremony. Mr. Cheng Xian, General Manager of Novozymes OneHealth China, Dr. Barry Kiely, Senior Director of Research and Development at Novozymes OneHealth, Ms. Gao Sha, Head of Strategy and Marketing at Novozymes OneHealth China, and Mr. Liu Kun, Sales Head of Novozymes OneHealth China, Mr. Wang Junhao, President of Juneyao Group and Chairman of Juneyao Health, Ms. Wang Chenchen, Deputy General Manager of Juneyao Health, Ms. Yang Yiyin, Director of Strategic Investment/Digital Insight Department of Juneyao Group/Juneyao Health, attended the event and witnessed the ceremony. This cooperation is not only a sign of close partnership between the two companies, but also gives new momentum to Chinese health brands and probiotics industry and creates opportunities for joint development.
This strategic collaboration aims to build a long-term and stable partnership, covering various areas such as information exchange, scientific research cooperation, new product development, and market promotion. Particular emphasis will be placed on technical innovation in probiotic strains. Additionally, it seeks to boost global market vitality and facilitate the construction of integrated research teams. Novozymes OneHealth's star probiotic strain, IBme™ (Bifidobacterium longum 35624®), will be applied in Juneyao Health's next-generation probiotic products.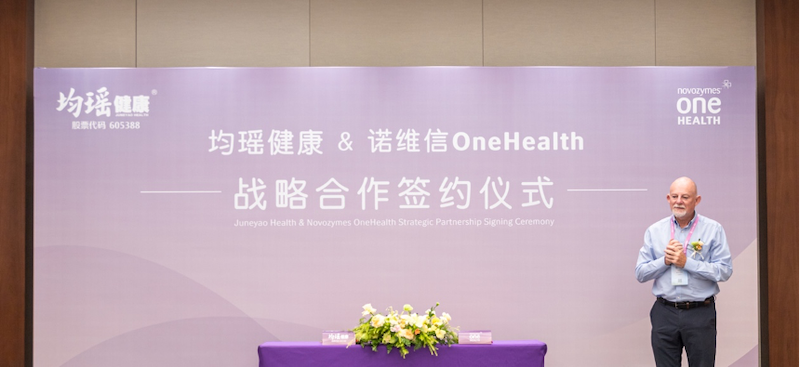 Representing both parties, Mr. Cheng Xian and Ms. Wang Chenchen signed the agreement. The dignitaries present gathered for a group photo to capture the memorable moments of this joint journey and to witness the determination of both sides to move forward hand in hand.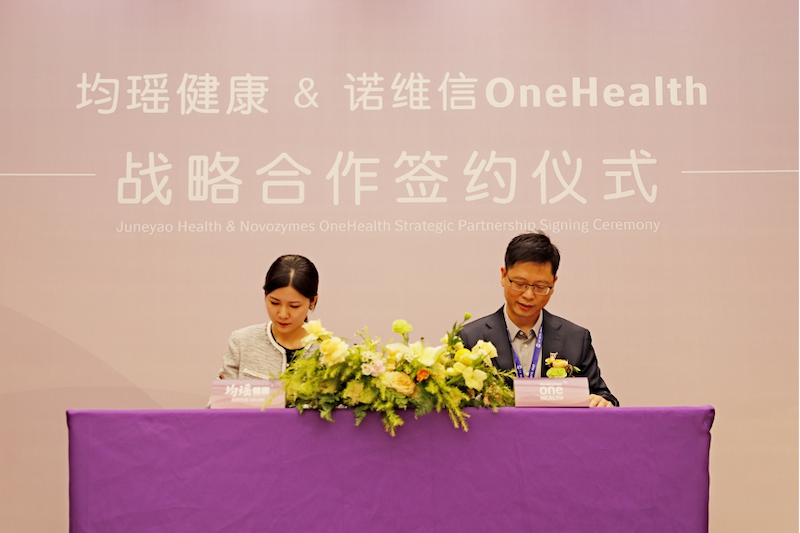 As we move forward, our shared vision remains clear: to further explore the potential of probiotics to improve human well-being. Through rigorous research, clinical validation and sustainable nutritional strategies, we aim to provide practical solutions that can positively impact the lives of people worldwide.
The 14th ACN served as an excellent platform to introduce this partnership and its promising prospects for the field of nutrition science and public health. We are confident that with commitment and collaboration, our efforts will contribute to a healthier and more prosperous future for all. Together, Juneyao Health and Novozymes OneHealth are committed to promoting a harmonious relationship between nutrition and well-being and strive to set new standards in this field.
In the "Human Microecology and Nutritional Health" sub-forum on September 17th, Dr. Barry Kiely, Senior Director of Research and Development at Novozymes OneHealth delivered a speech on Scientific strategy and clinical evidence for Precision probiotics. He talked about how to feed the future through sustainable nutrition and highlighted the significant roles of two key probiotic strains developed by Novozymes OneHealth Bifidobacterium longum 35624® & 1714®. Dr. Kiely emphasized that these probiotic strains are noteworthy for their potential contributions to improving human health and well-being.
Bifidobacterium longum 35624® has been clinically shown to help ease the abdominal pain, bloating, gas, diarrhoea and constipation that impact quality of life. In their most recent Global Guidelines for Irritable Bowel Syndrome (IBS), the World Gastroenterology Organization acknowledged the Bifidobacterium longum 35624® strain as being the most efficacious probiotic strain for specific gut discomfort .
Bifidobacterium longum 1714® targets the gut-brain axis and has been shown in two placebo-controlled clinical trials to help adults handle the psychological and physical responses to stress, significantly reduce cortisol output in response to stress and maintain a calm state of mind and emotional balance during stressful times.
Dr. Kiely stressed the importance of continued research and clinical trials to substantiate these potential benefits and to ensure that probiotics like Bifidobacterium longum 35624® and 1714® can be effectively integrated into sustainable nutrition strategies to support human health.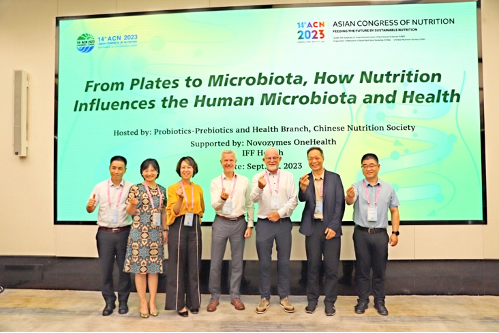 With this partnership, we are not only strengthening our commitment to advancing the science of nutrition but also forging a path toward a healthier and more resilient future for individuals around the world. We invite all stakeholders to join us on this journey of discovery and innovation in the pursuit of improved well-being for all.
CONTACT: Tim Brown
tim198515@gmail.com