Shaheen Group Announces Successful Internship of Harvard Law Students at Pakistan Supreme Court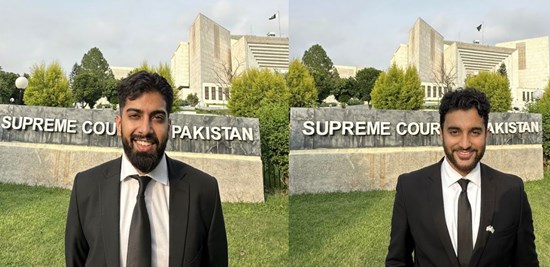 Boston, Massachusetts–(Newsfile Corp. – September 30, 2023) – Shaheen Group has disclosed the successful completion of a five-week summer clerkship at the Supreme Court of Pakistan by Saeed Ahmad and Hussain Awan, law students from Harvard University. This program reflects a notable engagement between the legal academic realms of North America and Pakistan, enabling the duo to delve into a variety of legal explorations under the mentorship of Justice Syed Mansoor Ali Shah and other eminent legal personnel.


From left to right, Hussain Awan, Saeed Ahmad.

To view an enhanced version of this graphic, please visit:
https://images.newsfilecorp.com/files/9967/181103_456f07c2447a48b0_001full.jpg
During their tenure, based in Islamabad with visits to other cities, the interns engaged in researching Public Interest Litigation, dissecting judicial ambits under Article 184 of the Pakistani Constitution, and participating in legal procedures among other activities. Their experience expanded beyond the capital, reaching district courts in Rawalpindi and the Lahore High Court, granting them a nuanced understanding of the juxtaposition between Pakistani and American legal systems.
The clerkship initiative originated from a seminar at Harvard which featured dialogues between Justice Syed Mansoor Ali Shah from Pakistan and Justice Stephen Breyer from the United States. This seminar incited the interest of Ahmad and Awan in serving as summer clerks at the Supreme Court of Pakistan, furthering their understanding of their legal and cultural lineage.
About Shaheen Group
Shaheen Group is dedicated to the empowerment of minority communities, prominently focusing on individuals of Pakistani origin. The group provides essential resources and guidance with the objective of fostering growth, inclusivity, and self-sufficiency. This initiative is a testament to Shaheen Group's ongoing commitment to bridging the legal realms between North America and Pakistan, thereby nurturing academic and professional connections between institutions across these regions.
Both Ahmad and Awan, as part of the North American Pakistani diaspora, are driven by a mission to foster collaborative endeavors between entities in Pakistan and the United States, encapsulating educational exchanges, internships, and investments. Their aspiration is to galvanize the next generation of leaders toward the betterment of their communities.


Saeed Ahmad, with permission.

To view an enhanced version of this graphic, please visit:
http://www.corporatemedianews.com/wp-content/uploads/2023/09/181103_456f07c2447a48b0_002full.jpg
Contact Information
Saeed Ahmad: mahmad@jd24.law.harvard.edu
Hussain Awan: hawan@jd25.law.harvard.edu
To view the source version of this press release, please visit https://www.newsfilecorp.com/release/181103