Esker Accelerates Its International Growth, Opening Its 15th Subsidiary in the Benelux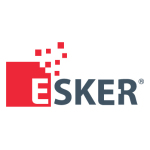 LYON, France & MIDDLETON, Wis.–(BUSINESS WIRE)–Esker, a global cloud platform and leader in AI-driven process automation solutions for finance and customer service functions, today announced that it has opened a new subsidiary in the Benelux (Belgium, the Netherlands and Luxembourg). Operating worldwide, Esker's solutions are supported by local presences to better serve its customers.
Four years after opening its Hong Kong subsidiary, Esker is reinforcing its presence in Europe by opening new offices in Belgium in order to serve a region that promises high growth potential for the company. With its economic dynamism, the Benelux region is a magnet for large companies in Europe, particularly for the industrial and biotechnology markets. Esker already has customers such as Abbott, Atlas Copco, Greenyard, Heineken and Ineos in the region, in addition to a strong partnership with KPMG in the Netherlands.
Adelin Odent, who oversaw the Benelux region for Esker France for the past 10 years, has been appointed Country Manager for Esker Benelux.
"I am excited to support Esker's expansion in this strategically important region. With dedicated offices and teams, we will be closer to our customers and able to support them in the digital transformation of their administrative and financial processes," said Odent. "We are looking to double our workforce in the region and hoping to attract local talent that will help to expand the subsidiary's success."
"Esker has become one of the world's leading providers of business process automation solutions. With its presence on four continents with 15 subsidiaries, 65% of sales are generated internationally," said Jean-Michel Bérard, CEO at Esker. "Although we foster an international atmosphere at Esker, we make a point of having a local presence wherever possible, so we can be close to our customers and support them as best we can in the digital transformation of their businesses."
About Esker
Esker is a global cloud platform built to unlock strategic value for finance and customer service professionals, and strengthen collaboration between companies by automating the cash conversion cycle. Esker's solutions incorporate technologies like Artificial Intelligence (AI) to drive increased productivity, enhanced visibility, reduced fraud risk, and improved collaboration with customers, suppliers and employees. Founded in 1985, Esker operates in North America, Latin America, Europe and Asia Pacific with global headquarters in Lyon, France, and U.S. headquarters in Middleton, Wisconsin. For more information on Esker and its solutions, visit www.esker.com. Follow Esker on LinkedIn and join the conversation on the Esker blog at blog.esker.com.
Contacts
Press Contact: Christina Davies

Tel: (972) 366-7453 | cdavies@ideagrove.com
Investor Relations Contact: Emmanuel Olivier

Tel: +33 (0)4 72 83 46 46 | emmanuel.olivier@esker.com