Gendome Releases a Portable Minimalist-Designed Home Power Station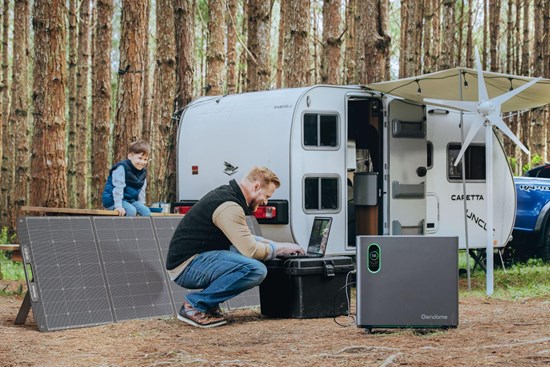 New York, New York–(Newsfile Corp. – January 10, 2023) – Gendome, a sustainable energy-focused brand, recently announced the launch of its smart portable home power station, the Gendome Home 3000. The Home 3000 is the solution to the lack of home-use portable power stations and the massive human labor involved during installation processes.
It is the latest charging power station that delivers a powerful battery performance and superior functionality to give users a safe, flexible and rapid powerhouse.
The majority of the available portable power stations are for outdoor use only, and indoor power stations need a professional team to handle the installation. This increases the overall cost of the station. The Home 3000 solves all these issues – flexibility, easy set-up and affordable pricing.
Due to its fast-gen technology, it takes 1.2 hours for the Gendome Home 3000 power station to be fully charged. It is equipped with the built-in 1500W MPPT converter, raising up the efficiency of solar and wind charging methods.
Gendome Home 3000
To view an enhanced version of this graphic, please visit:
https://images.newsfilecorp.com/files/8939/150535_2cf4df937423083c_001full.jpg.
Gendome designed the Home 3000 with a 3,072Wh battery capacity that allows the use of most heavy-duty appliances for off-grid homes or as an alternative backup to RV usage. The Home 3000 offers 17 different output ports, including the world's first PD 3.1 on the power station, in order to meet broad charging needs.
The smart app provides users with all the information they need to make informed decisions. The home backup battery also provides notifications about unusual situations and alerts users via the smart app when the battery needs charging. Users can use the mobile app wherever they are using the Internet or bluetooth. The Gendome can also be combined with other innovative home systems for more control.
The Gendome team created a minimalist design to match its consumers' modern living environment. The device uses an advanced LCD screen and comes with a trolley that allows them to easily move it from one place to another.
Gendome designed its Home 3000 to remain the pioneer in new energy life and guarantees users power autonomy in both time and space. The company is continuously looking for ways to manufacture goods that boost fair trade and promote de-carbonization in power usage. It wants to encourage consumers to live a more eco-friendly, sustainable life for the planet's future.
For more information, please check out:
https://home3000.gendome.com/?gclid=CjwKCAiAzKqdBhAnEiwAePEjkvygvJSPvR2epj4ewBPs3jfYeKgPigeVyQWToy12Ts8WbnBU9S3WQxoCgJ4QAvD_BwE.
Media Contact:
Will Liu
Email: marketing@gendome.com
To view the source version of this press release, please visit https://www.newsfilecorp.com/release/150535