Synovus Announces Partnership with Teil Duncan Henley and Russell Henley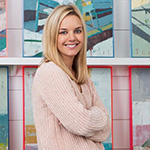 COLUMBUS, Ga.–(BUSINESS WIRE)–Synovus Bank announced today a three-year partnership with four-time PGA Tour winner Russell Henley and renowned artist, entrepreneur, and author Teil Duncan Henley. The couple, natives of Georgia, will highlight the partnership through storytelling content. In addition, the Synovus logo will debut on Russell's left chest beginning with the 2023 Sentry Tournament of Champions on Jan. 5 in Maui, Hawaii.
"Our Synovus purpose is to enable people to reach their full potential," said Liz Wolverton, head of consumer banking and brand experience at Synovus. "Clients like Russell and Teil represent an amazing example of how ambition, dedication and a strong support system can result in success – whether in a craft, a sport or a family. Individually and together, they inspire us, and we believe their stories will inspire others."
Over the course of the partnership, the couple will offer a unique view into their lives on the golf course, in the art studio, and at home in Columbus, Georgia, where they live with their three children. Columbus is the headquarters city of Synovus.
"Teil and I have resided in communities where Synovus has played a role in the lives of many people," said Russell Henley. "As clients, we value the role that Synovus plays for us, and we are excited to share more as brand ambassadors."
In November 2022, Russell Henley won the PGA Tour's World Wide Technology Championship at Mayakoba and is currently ranked the 31st best golfer in the world. Teil Duncan Henley is a full-time painter and author of "The Color Teil: Life, Work, and Inspiration" and illustrator of "Ordinary Love" written by Morgan Barber. Russell Henley is on Twitter at RussHenleyGolf. Teil Duncan Henley is on Instagram at Teilart.
Synovus Bank, a Georgia-chartered, FDIC-insured bank, provides commercial and consumer banking in addition to a full suite of specialized products and services including private banking, treasury management, wealth management, mortgage services, premium finance, asset-based lending, structured lending, capital markets and international banking. Synovus has branches in Georgia, Alabama, South Carolina, Florida and Tennessee. Synovus is a Great Place to Work-Certified Company and is on the web at synovus.com and on Twitter, Facebook, LinkedIn and Instagram.
Contacts
Synovus

Audria Belton

media@synovus.com