100 Elite Ethical Hackers Inducted into EC-Council's 2023 Certified Ethical Hacker (C|EH) Hall of Fame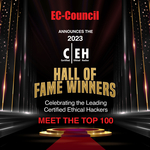 Top Cybersecurity Professionals from 50 Nations Recognized for their Industry Accomplishments and Excellence as Ethical Hackers
TAMPA, Fla.–(BUSINESS WIRE)–#ceh–Today EC-Council announced it has inducted the top 100 Certified Ethical Hackers from around the world into their 2023 Certified Ethical Hacker (C|EH) Hall of Fame. Selected from over 3,000 applicants in 50 countries worldwide, each honoree was required to have passed the Certified Ethical Hacker exam with a score of at least 90%. These inductees were chosen based on their accomplishments across 26 different industries.
The announcement comes on the heels of a year that saw a marked uptick in global cybercrime as well as an increasingly acute shortage of skilled cybersecurity workers. Despite calls from governments and industries worldwide for more skilled cybersecurity workers, many nations currently have as many as 50% of their cybersecurity positions unfilled. The C|EH program provides fundamental training in cybersecurity, with many national governments and industries mandating the certificate for numerous cyber jobs.
"The need for a trained-up cybersecurity workforce has reached a tipping point, with huge numbers of open positions on the one hand and an increasingly complex threat environment on the other," said Jay Bavisi, Founder and CEO of EC-Council. "Securing our businesses and government agencies around the world requires trained cyber professionals, and the ability of those professionals to think like a hacker and take appropriate measures is critical to that training. This year's C|EH Hall of Fame inductees include the best of the best in cybersecurity talent, and there's much we can learn from them."
The Certified Ethical Hacker program provides a means of training cybersecurity professionals and ensuring their capabilities. 97% of ethical hackers surveyed found the C|EH training directly relevant to their work defending their organizations' assets. The C|EH program is widely recognized for its comprehensive curriculum, which is one of the reasons why ethical hacker skills have broad applications across a wide range of organizations. More than 88% of the Hall of Fame inductees consider the C|EH program to have the most comprehensive curriculum in the industry.
A critical aspect of being prepared to handle emerging cybersecurity threats is having actual experience working with them. One of the key ingredients in the C|EH training curriculum is the cyber lab, which gives participants a way to safely gain hands-on experience that closely parallels the high-stakes experiences of cybersecurity professionals engaged in active combat. "The C|EH is a foundational course for offensive and defensive security professionals," said newly inducted Hall of Famer Ramin Nafisi, a security researcher at Microsoft. "It covers a broad range of comprehensive, fundamental, and relevant security assessment topics possessed by computer and network security practitioners."
The cybersecurity landscape is continuously evolving, with new challenges presented by cloud, robotics, mobile, and AI technologies. Ransomware alone grew by 41% compared to the year prior, according to a 2022 IBM study.
The impact of the C|EH training has proven to yield tangible, quantifiable benefits to the organizations that employ ethical hackers. As Hall of Famer Guerrino Mazzarolo, an IT manager for NATO in Belgium, said, "I developed and implemented organization security strategies and frameworks that reduced insider security-related breaches by 20% compared to reports for the last three years."
The ethical hackers who were inducted into the Hall of Fame are practitioners on organizations' front lines. "My team performed over 800 cybersecurity missions while achieving a 99.8% operational readiness rating," said inductee Stephen Reid, a security engineer in the U.S. Army.
Many of the inductees spoke about the impact their C|EH credentials had on their careers. 97% said they chose the C|EH at least partly because the certification would facilitate career growth. More than half of this year's Hall of Fame inductees were able to point to a promotion received after earning their C|EH certificate. 92% of the hiring managers surveyed for the Hall of Fame report said they prefer candidates with the C|EH certification for positions requiring ethical hacking skills.
To view the full report, including all survey data and references, see Leading the Ethical Hacking Community in 2023: The 2023 C|EH Hall of Fame Annual Report.
ABOUT EC-COUNCIL
Founded in 2001 in response to 9/11, EC-Council invented the Certified Ethical Hacker. EC-Council's mission is to provide training and certifications for both aspiring and experienced cybersecurity professionals to help keep corporations, government agencies and others who employ them safe from attack.
Today, EC-Council offers 200 different training programs, certifications, and degrees in everything from Digital Forensic Investigation and Security Analysis to Threat Intelligence and Information Security. An ISO/IEC 17024 Accredited Organization recognized under the U.S. Defense Department Directive 8140/8570 and many other authoritative cybersecurity bodies worldwide, the company has certified 50,000 professionals across the globe. Trusted by seven of the Fortune 10, half of the Fortune 100, and the intelligence communities of 140 nations, EC-Council is the gold standard in cybersecurity education and certification.
A truly global organization with a driving belief in bringing diversity, equity and inclusion to the modern cybersecurity workforce, EC-Council maintains 11 offices in the U.S., the U.K., India, Malaysia, Singapore, and Indonesia. The company can be reached online at https://www.eccouncil.org/
Contacts