Hashnote, Institutional DeFi Asset Management Platform, Launches After $5mn Incubation From Cumberland Labs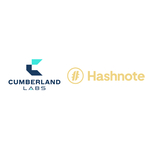 Hashnote is the first incubated company launched by Cumberland Labs, a Web3 incubator backed by partners of DRW and Cumberland
CHICAGO–(BUSINESS WIRE)–Founder and CEO Leo Mizuhara and Cumberland Labs are pleased to announce the launch of Hashnote, the first fully regulated, institutional-grade investment management platform for DeFi. Hashnote is backed with US$5mn of investment from Cumberland Labs, an early-stage blockchain incubator launched by the partners of principal trading firm DRW and its cryptoasset arm, Cumberland.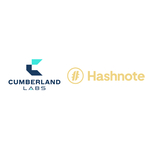 Combining the familiarity and regulatory compliance of existing traditional finance fund infrastructure with on-chain transparency and security, Hashnote simplifies the complexities of DeFi while ensuring secure, verified transactions with every counterparty. The platform offers full regulatory and KYC/AML compliance for a range of investment structures including yield generation, downside protection, and leveraged upside products.
"Accessing crypto markets and structured products through DeFi is currently overly complex, typically unregulated, and rife with useability and platform risk," said Cumberland Labs Head of Strategy and Business Development, Tama Churchouse. "Hashnote offers investors the best of both worlds; a compliant TradFi front end, coupled with the benefits of secure, transparent, and efficient DeFi technology. The size of our investment reflects our conviction in this opportunity, and our belief in the Hashnote management team, led by Leo Mizuhara."
"Given the multiple setbacks that have characterized the space in the past twelve months, we believe the market needs a solution like Hashnote. Coming from a TradFi derivative structuring background, I know this is a sorely needed product and am onboarding as Hashnote's first client," Churchouse continued.
Founded in 2022, Cumberland Labs—led by Naveen Agnihotri, CEO, and Churchouse—has access to the extensive strengths of trading giant DRW and Cumberland. Its funding by DRW's partners enables it to make outsized first-check early-stage investments and development to accelerate companies that solve real-world problems.
In addition to capital allocation, Cumberland Labs offers founders and entrepreneurs access to its full-stack support offering, which includes blockchain development and design, product management, engineering, business planning, go-to-market strategies, and legal and regulatory expertise.
"We saw a glaring need in the market for an investment management platform that capitalizes on the benefits of DeFi but has the look, feel, and regulatory security of traditional investment vehicles," said Hashnote CEO Leo Mizuhara, who is an alumnus of DRW and traded FICC Options. "Cumberland Labs immediately understood our vision and provided the necessary support to turn our idea into a fully-operational business in less than a year, laying the foundation for what finance will look like in the next decade."
Differentiating itself from traditional incubator and venture capital institutions, Cumberland Labs takes a tailored approach to supporting entrepreneurs and young companies. Rather than using predefined timetables and template structures, as many incubators do, Cumberland Labs tailors its support and schedule for each company to the extent necessary to achieve long-term success.
"Web3 is plagued with developers building solutions without any real-world problems to solve, leading to numerous blockchain tools with no path to profitability or viability. We started Cumberland Labs because we saw an opportunity to take an opposing view," said Naveen Agnihotri, CEO of Cumberland Labs. "We help visionary entrepreneurs turn ideas into successful businesses by focusing on emerging technologies to solve specific problems. Our first incubated company, Hashnote, embodies this vision by providing a superior solution for executing custom investment strategies within DeFi."
To learn more about Cumberland Labs and Hashnote, visit www.cumberlandlabs.io and www.hashnote.com.
About Hashnote
Hashnote is the first fully regulated, institutional-grade investment management platform for DeFi. With full-service support, zero counterparty risk, and customizable risk/reward strategies, Hashnote represents the best of both traditional and decentralized finance. Hashnote is building what "finance" will look like in 10 years – the convergence of traditional and DeFi.
About Cumberland Labs
Cumberland Labs is an early-stage Web3 incubator founded with the support of the partners of DRW, which includes cryptoasset giant Cumberland. The company incubates and develops innovative blockchain-based products and companies, leveraging its extensive in-house competencies to support the growth and success of its internal and external companies.
Contacts
Jon Brubaker

[email protected]